Mother's Day bonuses up to 20%
April 24, 2021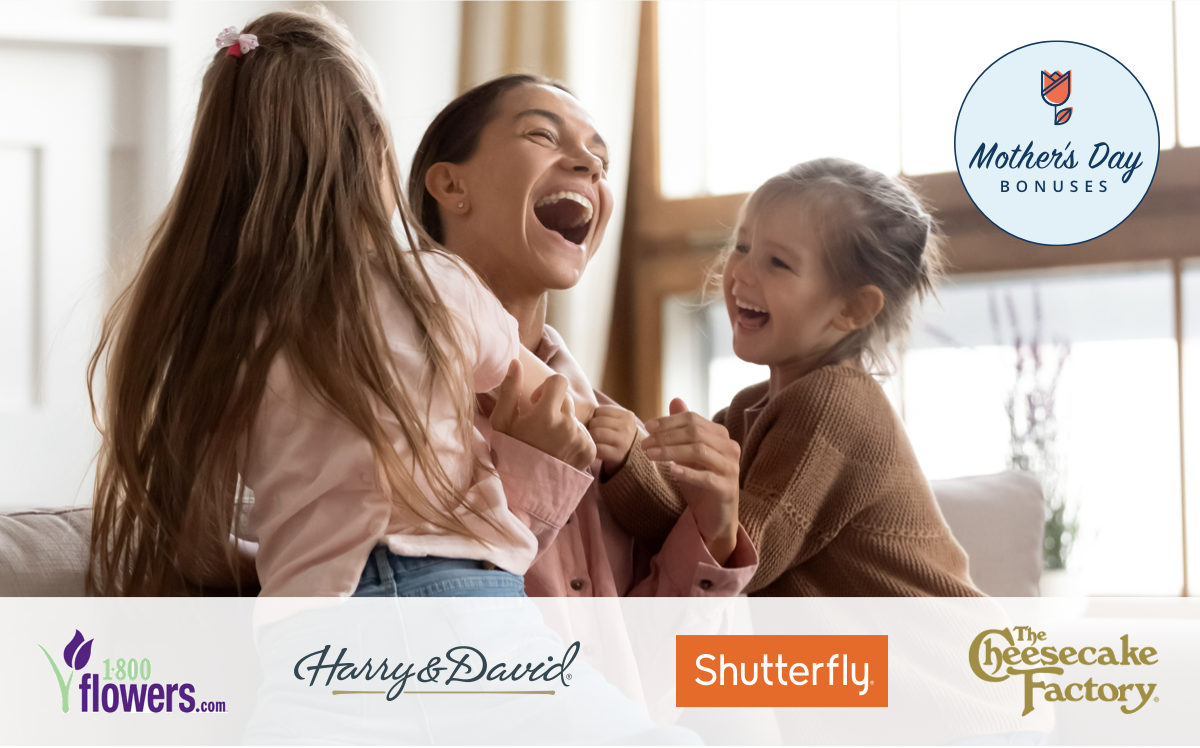 Shop special bonuses for Mother's Day and earn up to 20%
Do your Mother's Day shopping in one convenient place and give Mom gift cards from brands offering special bonuses—so she can get exactly what she wants. Or, use the gift cards to buy a gift. Either way, your organization raises more funds.
SHOP 30+ BONUSES
Shop 100+ brands offering bonuses. Earn up to 20% for what matters.
ThankScriping Day is Thursday and Friday. Take advantage of the special earnings to make an even bigger impact on your organization. Bonuses apply to eGift cards and reloaded gift cards.
12%

17%


Apr 24 - Apr 30

12%

17%


Apr 24 - Apr 30

8%

11%


Apr 24 - Apr 30

2%

7%


Apr 24 - May 7

12%

17%


Apr 17 - Apr 30

8%

11%


Apr 17 - Apr 30

10%

13%


Apr 24 - May 7

6%

6.75%


Apr 24 - May 7


Physical cards only

10%

13%


Apr 24 - May 7

6%

9%


Apr 24 - Apr 30

5%

8%


Apr 24 - May 7

12%

17%


Apr 24 - Apr 30

6%

9%


Apr 24 - Apr 30

5%

8%


Apr 24 - May 7

10%

13%


Apr 17 - Apr 30

4%

7%


Apr 24 - May 7

4%

7%


Apr 24 - May 7

10%

13%


Apr 24 - May 7

12%

17%


Apr 24 - Apr 30

8%

11%


Apr 17 - May 7

8%

11%


Apr 17 - May 7

12%

17%


Apr 24 - Apr 30

7.5%

10.5%


Apr 24 - Apr 30

6%

9%


Apr 24 - Apr 30

10%

12.75%


Apr 24 - May 7

6%

9%


Apr 24 - Apr 30

6%

9%


Apr 24 - Apr 30

8%

11%


Apr 24 - Apr 30

10%

13%


Apr 24 - May 7

12%

17%


Apr 24 - Apr 30

8%

11%


Apr 24 - Apr 30

10%

13%


Apr 17 - Apr 30

12%

14%


Apr 24 - May 7

6%

9%


Apr 24 - Apr 30

12%

17%


Apr 24 - Apr 30

9%

11.75%


Apr 24 - May 7

14%

20%


Apr 17 - Apr 30

15%

20%


Apr 24 - May 7

2.5%

3.5%


Apr 24 - May 7

2.5%

3.5%


Apr 24 - May 7
Disclaimer
The merchants represented are not sponsors or otherwise affiliated with ShopWithScrip®. The logos and other identifying marks used are trademarks of and owned by each represented company and/or its affiliates. Please visit the company's website for additional terms and conditions