Weekly Roundup: Earn bonus rebates up to 18% through Friday
February 23, 2019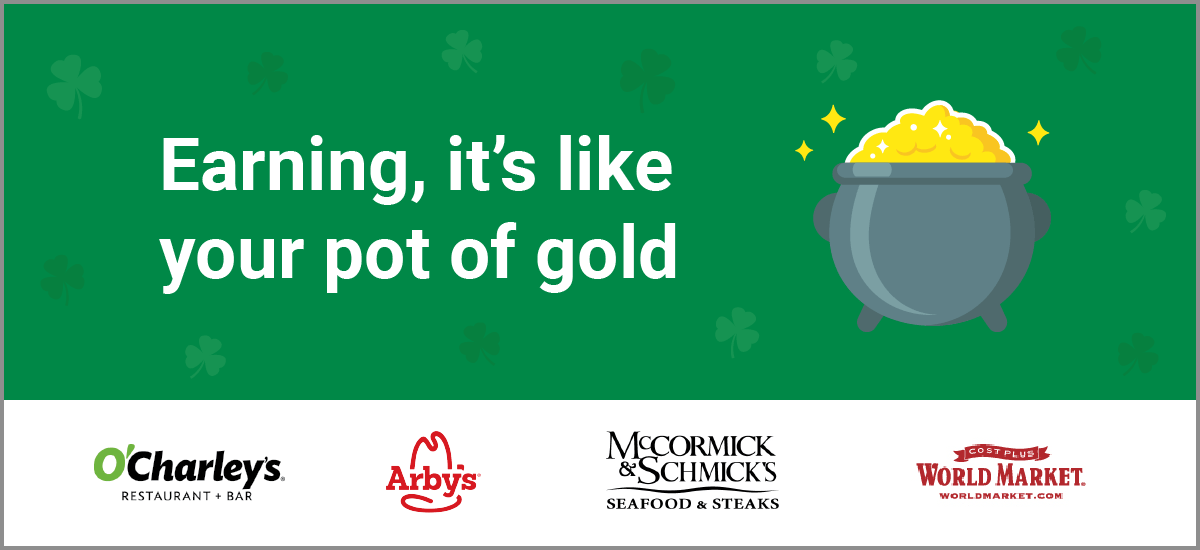 Whether you're whipping up treats for your little leprechauns, making crafts and décor, cooking a traditional Irish meal, or planning a family dinner out, do it all with scrip and earn.
Shop Scrip for St. Patrick's Day

Earn big and get the shoes you want before they're gone
Payless is closing its doors nationwide and offering liquidation sales in stores. Earn an 18% bonus rebate while supplies last. Payless is expected to honor gift cards through March 11, so place your order immediately and use all Payless gift cards quickly to score styles before they're gone.
Shop Now
Disclaimer

We are unable to accept Payless gift card returns.

All Payless gift cards must be redeemed in-store.
4%

|

5%


February 23 -
March 8
Shop

4%

|

5%


February 23 -
March 8
Shop

14%

|

18%


February 16 -
March 1
Shop

14%

|

18%


February 16 -
March 1
Shop

4%

|

5%


February 23 -
March 8
Shop

12%

|

14%


February 23 -
March 1
Shop

12%

|

14%


February 23 -
March 1
Shop

4%

|

5%


February 23 -
March 8
Shop

14%

|

18%


February 16 -
March 1
Shop

4%

|

6%


February 23 -
March 8
Shop

4%

|

5%


February 23 -
March 8
Shop

4%

|

9%


February 2 -
March 1
Shop

4%

|

5%


February 23 -
March 8
Shop

14%

|

18%


February 16 -
March 1
Shop

4%

|

5%


February 23 -
March 8
Shop

10%

|

12%


February 23 -
March 8
Shop

4%

|

5%


February 23 -
March 8
Shop

4%

|

5%


February 23 -
March 8
Shop

4%

|

5%


February 23 -
March 8
Shop

4%

|

5%


February 23 -
March 8
Shop

4%

|

5%


February 23 -
March 8
Shop

4%

|

5%


February 23 -
March 8
Shop

4%

|

5%


February 23 -
March 8
Shop

4%

|

5%


February 23 -
March 8
Shop
7%

|

8%


March 2 -
March 15

12%

|

14%


March 2 -
March 15

7%

|

8%


March 2 -
March 15

10%

|

11%


March 2 -
March 15

7%

|

8%


March 2 -
March 15

7%

|

8%


March 2 -
March 15

7%

|

8%


March 2 -
March 15

10%

|

12.75%


March 2 -
March 15

7%

|

8%


March 2 -
March 15

10%

|

11%


March 2 -
March 15

13%

|

15%


March 2 -
March 9