Weekly Roundup: Shop for gifts that give back
December 08, 2018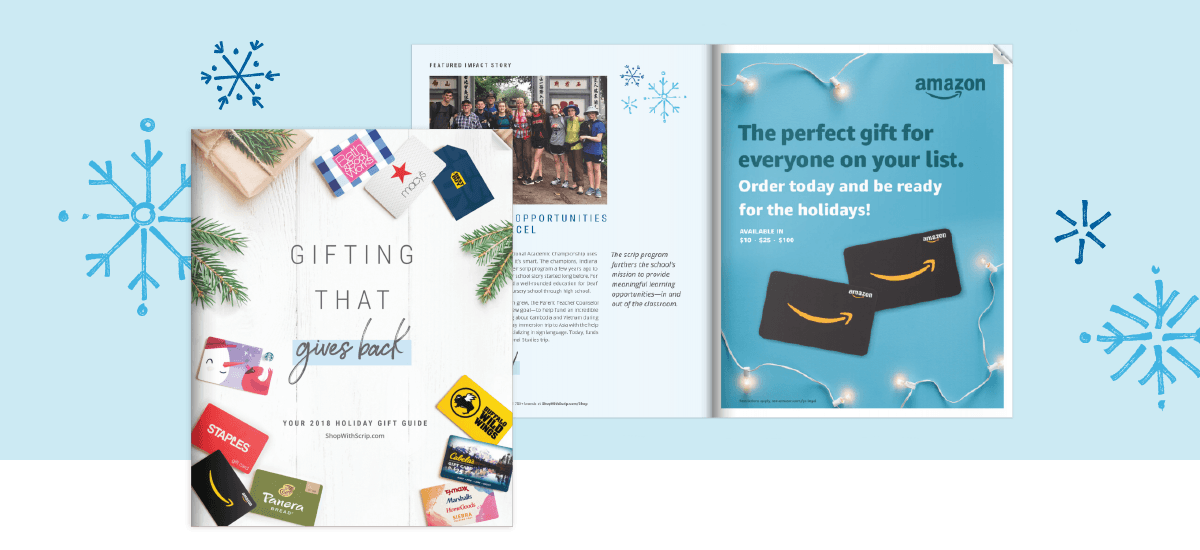 Gifts you'll feel extra good about giving—shop the gift guide today
There's just a little over a week left to place orders for physical gift cards and receive them in time for the holidays. Need some giftspiration? Shop the gift guide to find the perfect gifts for everyone on your list all while earning for your organization.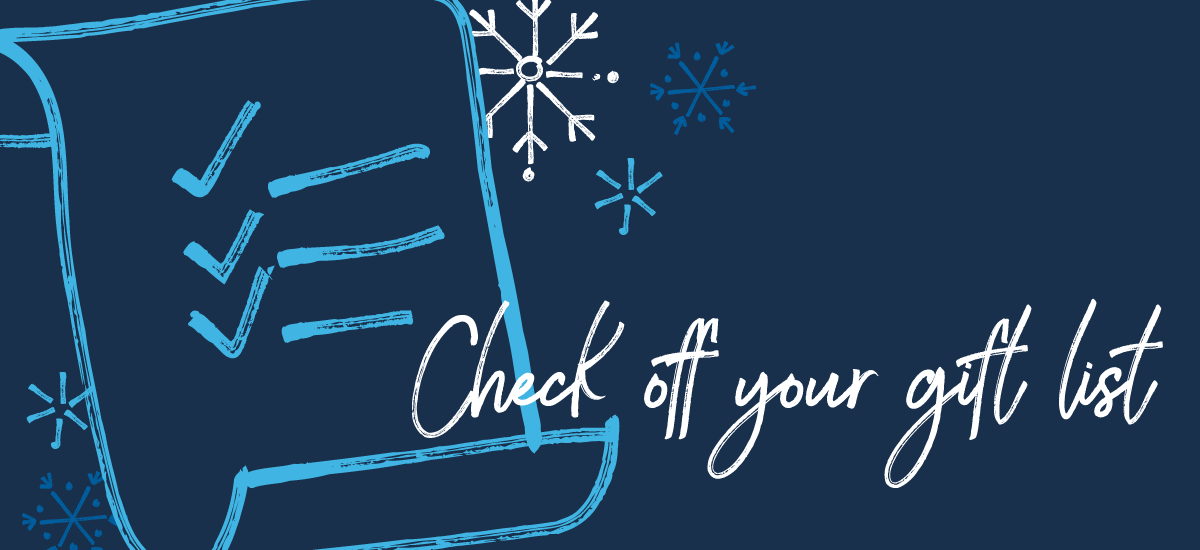 This holiday season give everyone on your list a gift they'll love—a gift card. Looking for ideas? Use the holiday gifting checklist to find the perfect gifts and stocking stuffers for Mom, Dad, the mailman, and more.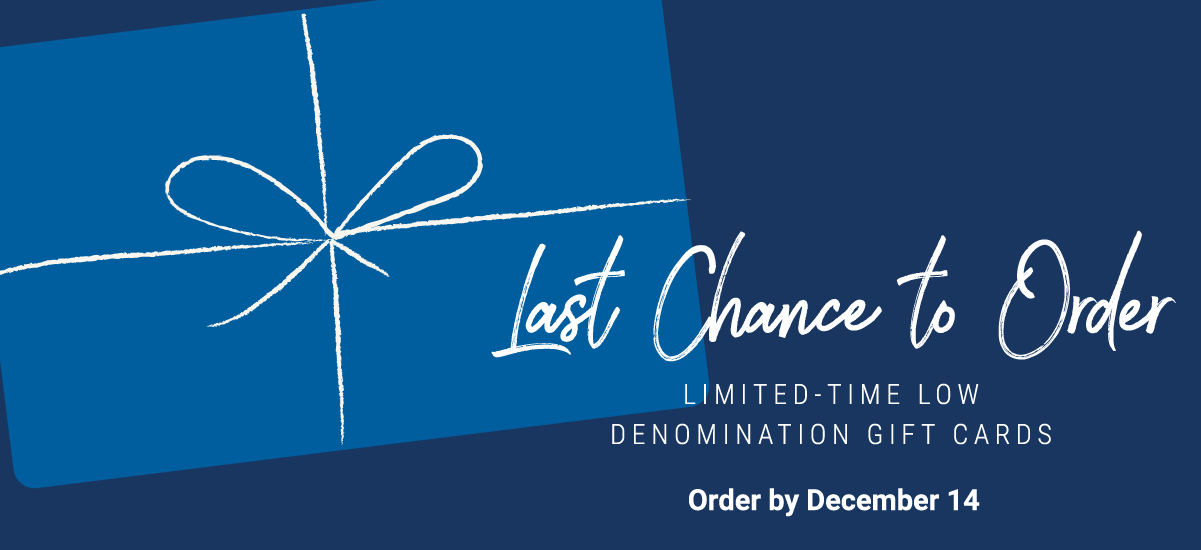 Only one week left to stock up on limited-time low denomination gift cards. The perfect stocking stuffers and small presents for the holidays are available until December 14—get your order in, then package them up in holiday gift card wrappersfor the perfect present.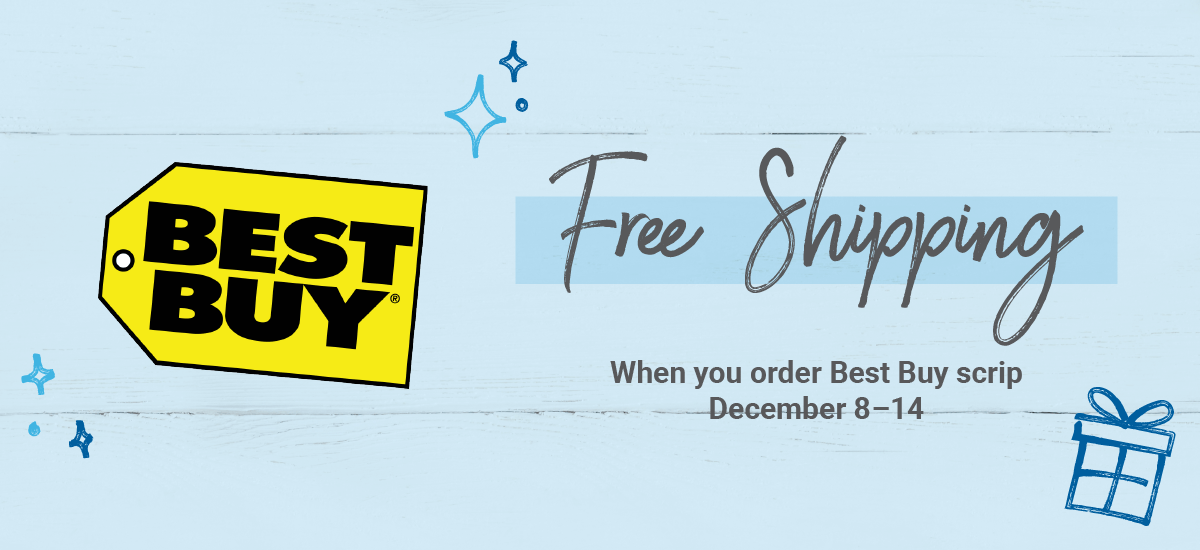 Order Best Buy gift cards for the techies on your gift list and help your organization receive free shipping. Today through December 14, your organization will receive free shipping on any method when the organization order includes at least $250 of Best Buy scrip.
10%

|

11.75%


December 1 -
December 14
Order

8%

|

11%


December 1 -
December 14
Order

10%

|

11.75%


December 1 -
December 14
Order

8%

|

11%


December 1 -
December 14
Order

10%

|

25%


November 10 -
December 28
Order

8%

|

12.75%


December 1 -
December 14
Order

8%

|

11.75%


December 1 -
December 14
Order

8%

|

10%


December 1 -
December 14
Order

8%

|

11.75%


December 1 -
December 14
Order

8%

|

11.75%


December 1 -
December 14
Order

11%

|

26%


November 10 -
December 28
Order

8%

|

9.75%


December 1 -
December 14
Order

8%

|

9.75%


December 1 -
December 14
Order

8%

|

11.75%


December 1 -
December 14
Order

Physical Cards Only


6%

|

6.75%


December 1 -
December 14
Order

8%

|

9.75%


December 1 -
December 14
Order

11%

|

26%


November 10 -
December 28
Order

7%

|

8%


December 1 -
December 14
Order

4%

|

5%


December 1 -
December 14
Order

8%

|

11%


December 8 -
December 21
Order

9%

|

13%


December 8 -
December 21
Order

10%

|

12%


December 1 -
December 14
Order

12%

|

15%


December 1 -
December 14
Order

4%

|

6%


December 1 -
December 14
Order

4%

|

7%


December 1 -
December 14
Order

6%

|

9%


December 8 -
December 14
Order

8%

|

11.75%


December 1 -
December 14
Order

8%

|

10%


December 1 -
December 14
Order

10%

|

12.75%


December 1 -
December 21
Order

9%

|

11%


December 1 -
December 14
Order

8%

|

9.75%


December 1 -
December 14
Order

4%

|

6%


December 1 -
December 14
Order

9%

|

11%


December 1 -
December 14
Order

9%

|

11%


December 1 -
December 14
Order

13%

|

16%


December 1 -
December 14
Order

8%

|

11%


December 1 -
December 14
Order

8%

|

10.75%


December 8 -
December 21
Order

12%

|

14%


December 8 -
December 21
Order

9%

|

11%


December 1 -
December 14
Order

14%

|

18%


December 1 -
December 14
Order

8%

|

9.75%


December 1 -
December 14
Order

7%

|

10.75%


December 8 -
December 14
Order

8%

|

10%


December 8 -
December 28
Order

11%

|

15.75%


December 1 -
December 14
Order
Reload Only


4%

|

6%


December 15 -
December 21

Reload Only


4%

|

6%


December 15 -
December 21

10%

|

20%


December 15 -
December 28

8%

|

10%


December 15 -
December 28

eGift Cards Only


12%

|

17%


December 15 -
December 28

8%

|

10%


December 15 -
December 28

Reload Only


4%

|

6%


December 15 -
December 21

Reload Only


4%

|

6%


December 15 -
December 21

eGift Cards Only


6%

|

9%


December 15 -
December 21

Reload Only


4%

|

6%


December 15 -
December 21

Reload Only


4%

|

6%


December 15 -
December 21

Reload Only


4%

|

6%


December 15 -
December 21

Reload Only


4%

|

6%


December 15 -
December 21

Reload Only


4%

|

6%


December 15 -
December 21

Reload Only


4%

|

6%


December 15 -
December 21

Reload Only


4%

|

6%


December 15 -
December 21

Reload Only


4%

|

6%


December 15 -
December 21

Reload Only


4%

|

6%


December 15 -
December 21

eGift Cards Only


7%

|

10.75%


December 15 -
December 21

Reload Only


4%

|

6%


December 15 -
December 21

Reload Only


4%

|

6%


December 15 -
December 21